PerfectFit is proud be serving the needs of professional dancers at companies across the country and around the world. Read more about the experiences of these extraordinary artists and athletes below, and be inspired by their stories.
Her shoe: Freed
Her old padding routine: Paper towels
Her PerfectFit 'recipe': uses about 2/3 of the jar, puts an equal amount on tops and bottoms of toes
Her favorite things about her inserts: vastly improved control and articulation of the shoe, also shoes lasting about 2x as long
"I have been searching for years to find a toe pad that would somehow work for me and solve my problems. I was thinking of changing my shoes, and people were telling me that me feet weren't pointing because my shoes/paper towels weren't working when I pointed. But these inserts just give me total control over my shoe. This is a game changer, and it has changed my career and dancing in a way I never thought possible.
Professionals, particularly City Ballet dancers, are always trying to find ways to eliminate pain, and have tools to get us through the long long days we have of rehearsals and shows. And it's always changing what we need, but if there is this stable base and something that is and can be molded to us, it is like heaven."
- SARA MEARNS
@saramearns
Her shoe: Freed
Her old padding routine: a type of shoe liner she found at Bed, Bath, and Beyond!
Her PerfectFit 'recipe': uses about 1/2 of the jar, mainly on the tops and tips of her toes
Her favorite things about her inserts: no more bruised big toenails, also shoes lasting much longer
"I haven't stopped wearing my inserts since I got them and they have been amazing. My feet don't hurt anymore! My bruised toe nails are healing. I haven't had one blister or even sore toe since.
My shoes are lasting longer. I even got a pair to last me two weeks! Unheard of for me!"
- LAUREN LOVETTE
@laurenlovette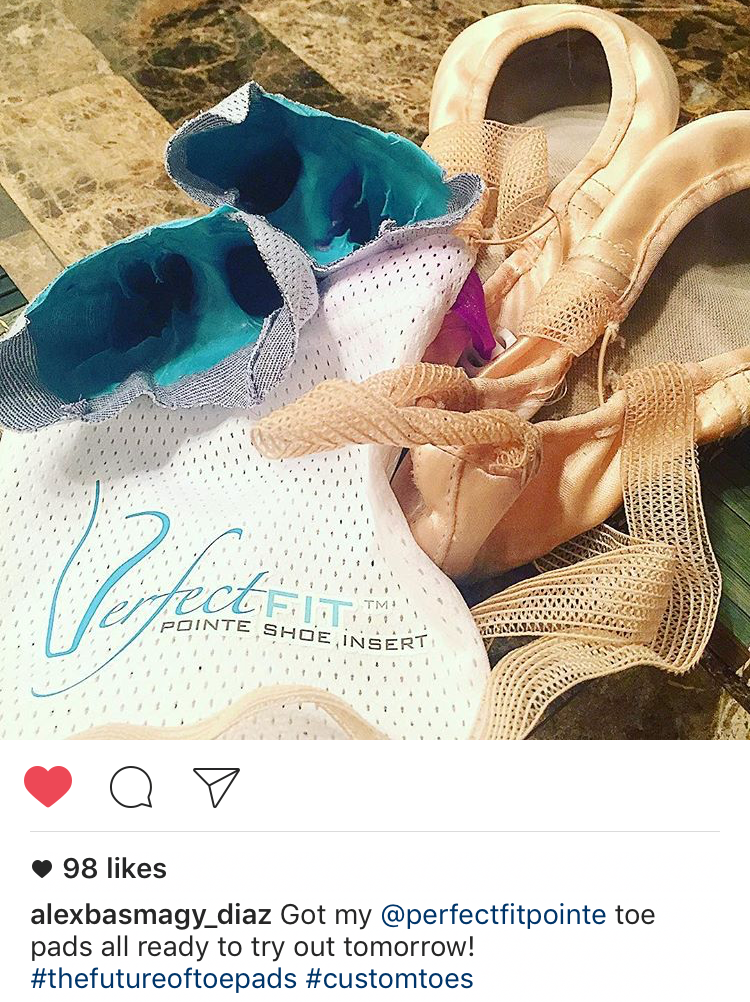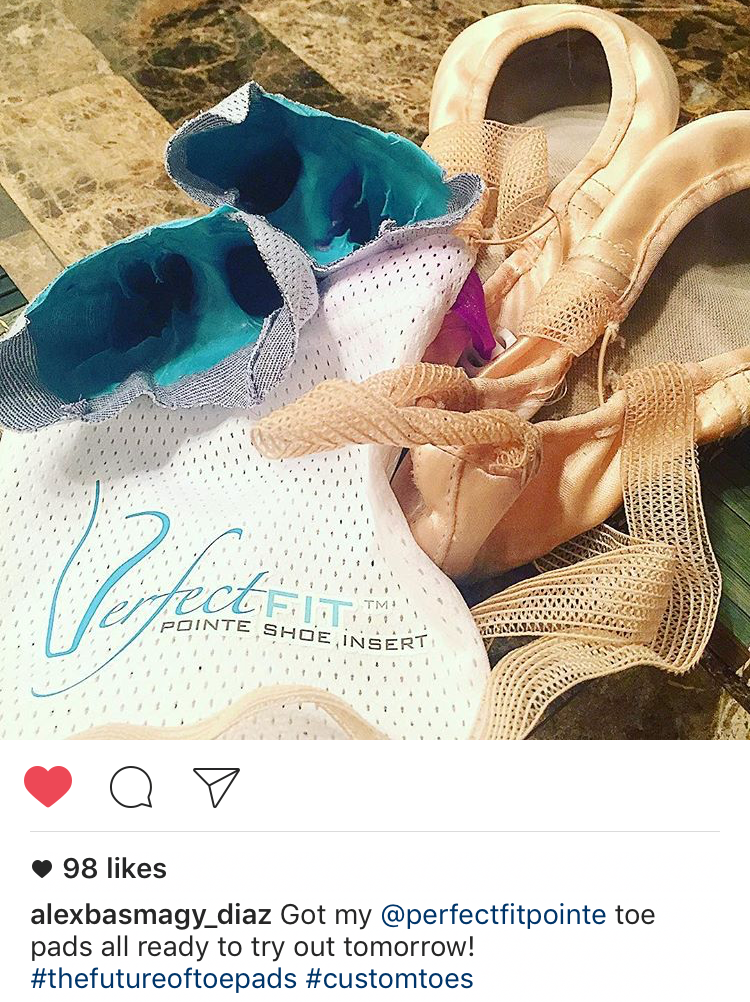 Her shoe: custom Gaynor Minden with Box #3 and Supple Shank
Her old padding routine: cut down Ouch Pouch Pro Pad and large big toe spacer
Her PerfectFit 'recipe': uses about 1/2 the jar with toe spacers
Her favorite things about her inserts: fills up the extra space in her shoe (supporting her smaller toes and smoothing her shoe line), helps her feel more lifted
"I can really feel a huge difference in the support of my toes in my shoes. A lot of dancers who wear Gaynor Mindens don't use toe pads, but my toes are so short and little I needed something to help fill the space. Normal toe pads didn't really solve that problem but PerfectFit Pointe Inserts were the exact answer I was looking for! I could control the amount that was needed, and it filled in all the empty spaces in the exact spots that were necessary. No more sinking into my boxes, and my small feet finally have a nice long, smooth look in the shoe."
- ALEXANDRA BASMAGY
@alexbasmagy_diaz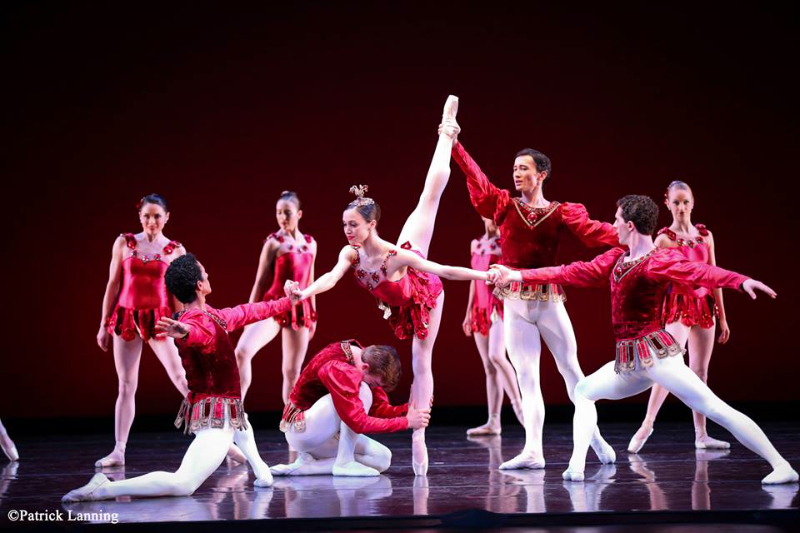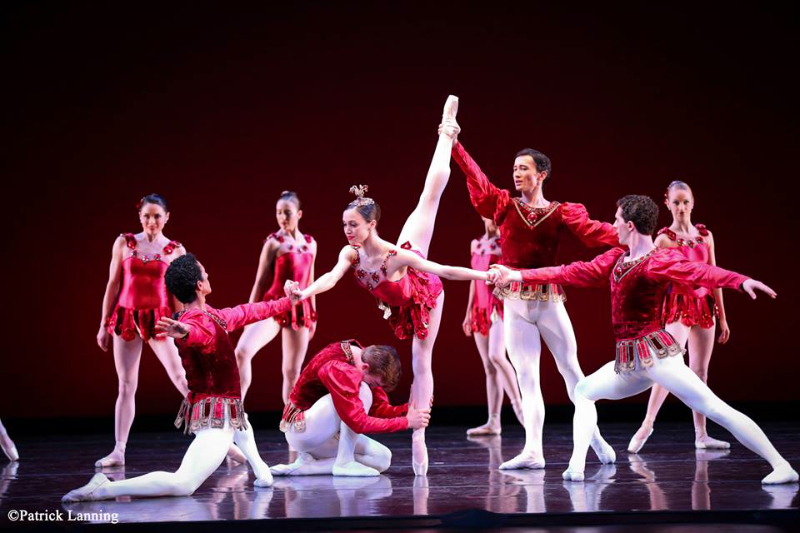 Her shoe: Russian Pointe, Rubin
Her old padding routine: regular Ouch Pouches, plus a gel cap for her second toe
Her PerfectFit 'recipe': uses about 1/2 of the jar
Her favorite things about her inserts: toes feeling perfectly placed without any extra padding, shoes lasting longer
"I absolutely love them! I've completely switched to just wearing the inserts and I haven't used my old toe pads once! They feel so much better on my toes because my toes stay perfectly in place and there isn't too much padding. I love that the bottom of the inserts don't have any padding so I can feel the floor. I don't notice any slipping or sliding in the shoe. Also, they definitely make my shoes last longer because they don't let me sink into the shoe and I feel like they don't hold as much moisture. I feel like either my feet don't sweat as much in them or they are more sweat proof. Lastly, they don't smell at all which is a major bonus! I love them!"
- BETSY MCBRIDE
@betsymcb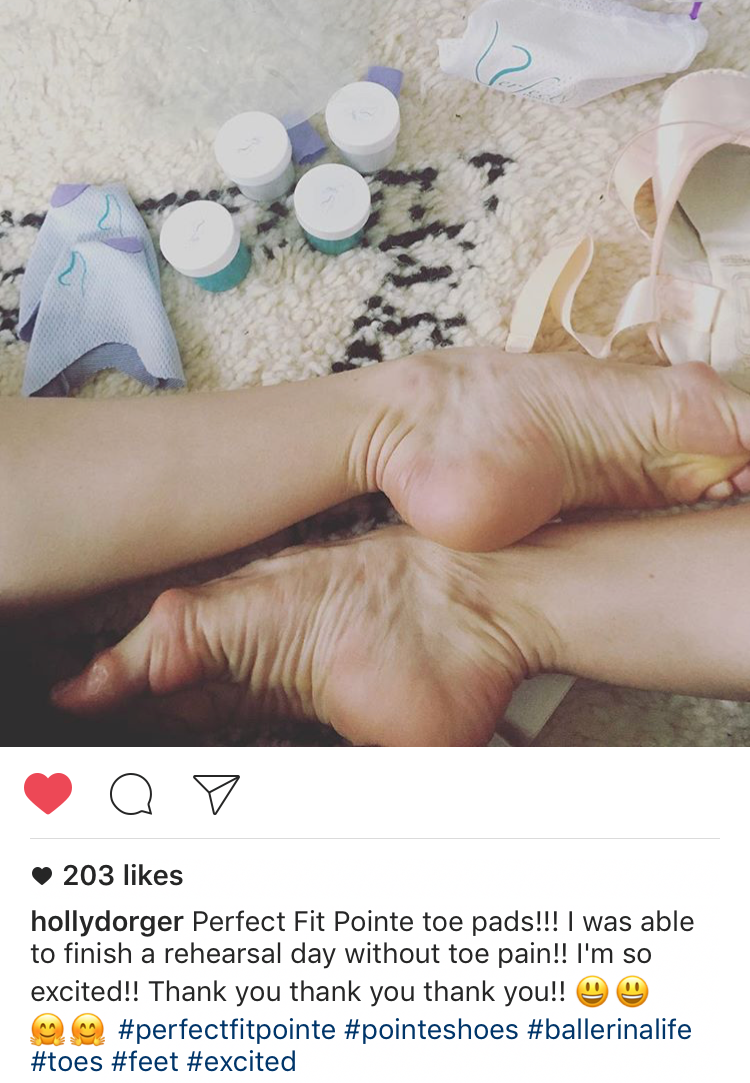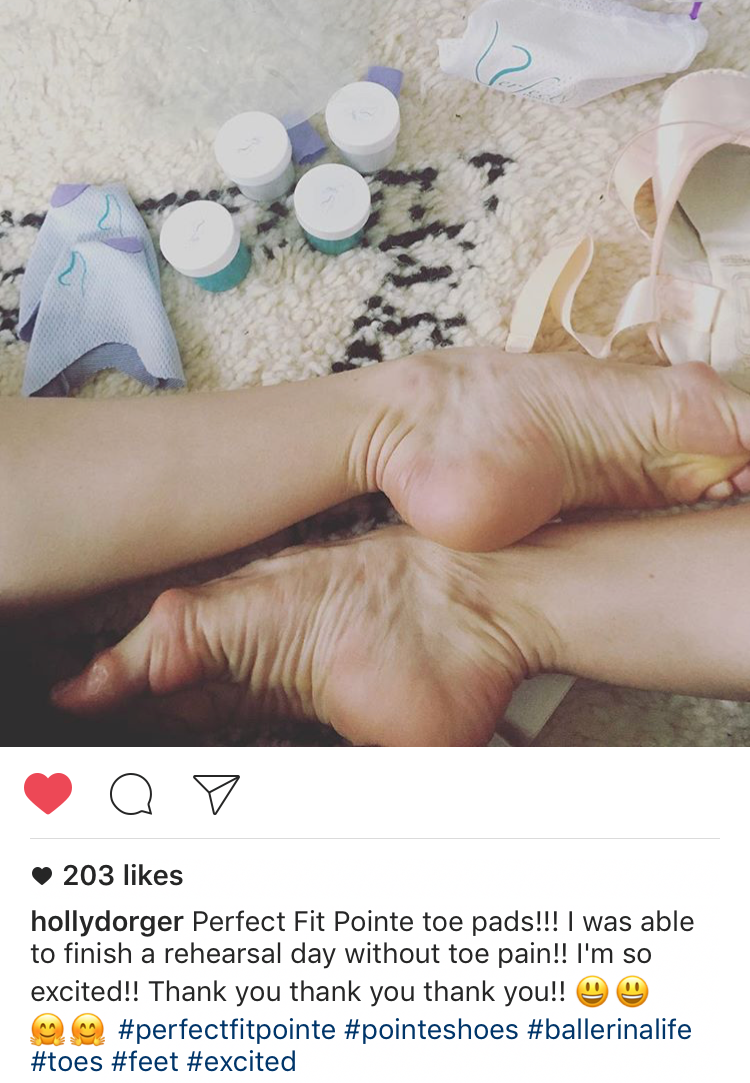 Her shoe: Freed, 5 1/2 X leather insole, Maker V
Her old padding routine: a large makeup pad around her last three toes and a toe gel sock on her second toe
Her PerfectFit 'recipe': uses 1/2 jar mostly on the top of her toes and a little bit under the toes
Her favorite things about her inserts: being able to focus on her dancing during long rehearsal days without being distracted by toe pain, saving valuable time in putting on her pointe shoes
"It takes me 2 seconds to put on my pointe shoes now. Before it would take me up to five minutes to tape my feet and arrange everything inside my shoe. I lost so much valuable time. Toe pain used to distract me from my rehearsals on long days, and since I've switched I haven't felt that distraction!"
- HOLLY DORGER
@hollydorger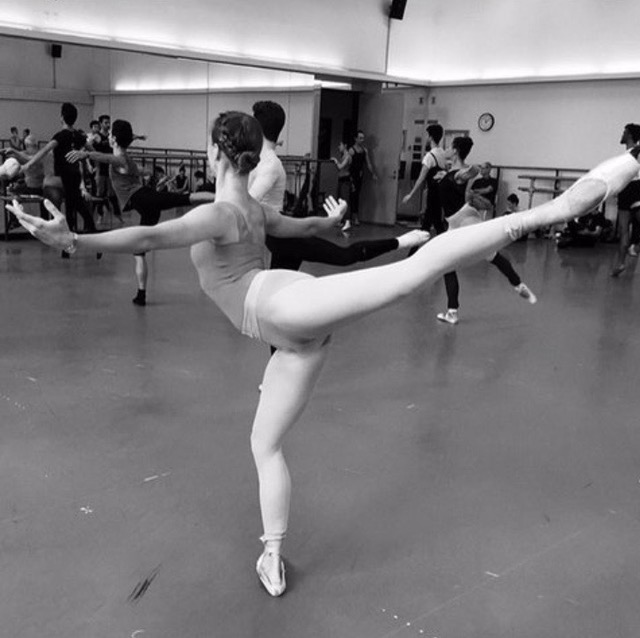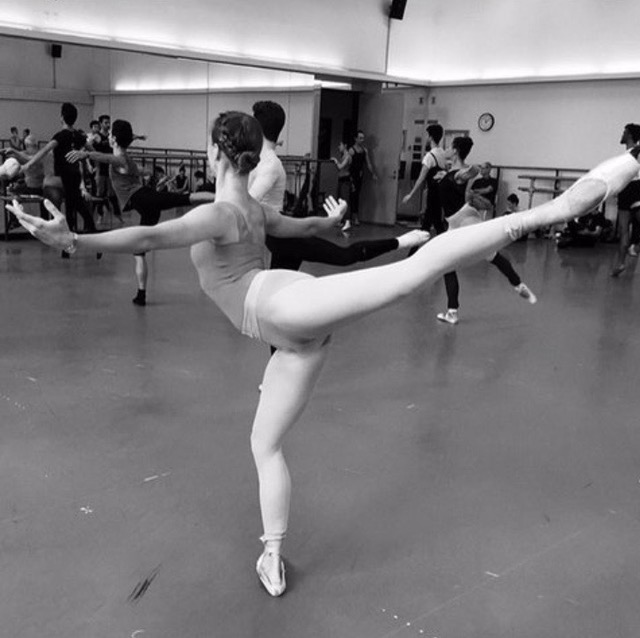 Her shoe: Freed, 6.5 X, Neptune Maker
Her old padding routine: Ouch Pouches with makeup sponge between 4th and 5th toe to prevent corns
Her PerfectFit 'recipe': uses about 2/3 of jar, along with custom-molded corn spacers between 4th and 5th toes (made during a pre-step in the molding process), plus a bit of tape on big toe and pinkie toe for added grip
Her favorite things about her inserts: no more toe pain, shoes are lasting longer, no more sinking feeling, corns are no longer irritating her
"These inserts are game-changers! When I wore my Ouch Pouches during a hard, long, and sweaty rehearsal, my shoe would expand so much that I would feel like I was swimming in my shoe and sinking into the box. As a result, my pointe shoes died very quickly. This, however, is no longer the case! With the PerfectFit inserts, I no longer have the "sinking and swimming" feeling! The putty takes up all the extra space that once caused me to sink in my shoe and now my shoes are lasting much longer."
- ISABELLA LAFRENIERE
@ilafreniere
Are you a professional dancer using PerfectFit, and would like to share your story here?
We' d love to hear from you! Send us a message at info@perfectfitpointe.com.